New York's new coronavirus figures suggest an ongoing downturn in the outbreak's severity, Governor Andrew Cuomo said on Sunday. According to his office's most recent impact report—shared during its latest COVID-19 briefing at Northwell Health's Long Island facility—single-day hospitalization, intubation and fatality counts have decreased statewide since Saturday's update.
"If the data holds and if this trend holds, we are past the high point and all indications, at this point, are that we are on a descent," Cuomo noted, referencing New York's overall coronavirus curve. His comment reiterating a similar statement shared to Twitter early Sunday afternoon, in which the governor said New York is "now descending the other side of the mountain." In both instances, Cuomo reminded state residents that a continued decline in coronavirus numbers hinges on their ability to adhere to social distancing guidelines.
"It's no time to get cocky, and it's no time to get arrogant," he told the press room. "We're not at the plateau anymore, but we're still not in a good position."
Cuomo announced that 507 new deaths were reported Saturday, down from 540 on Friday and 630 Thursday. The totals—while extremely consequential—reflect a progressive decrease in daily fatality reports compared to prior statistics. Overall, there have been 242,786 cases of coronavirus throughout the state.
Similarly, New York's daily hospital admission and intubation rates have decreased over the last three days, with almost 800 fewer patients hospitalized on Saturday than there were 48 hours earlier. Cuomo called this "good news," but acknowledged that the state continues to report new hospitalizations in staggering volumes every day. Between Saturday and Sunday's news briefings, the governor said approximately 1,300 coronavirus patients were admitted to hospitals statewide.
In addition to maintaining social distance measures, Cuomo discussed the state's infection management plans moving forward. Starting next week, New York's Department of Health will begin to administer antibody tests to residents across the state. The test aims to determine if an individual has contracted the coronavirus based on the presence of certain antibodies. It is possible that individuals with detectable antibodies may have some immunity to the disease, at least for a period of time. Being that many people could have carried and transmitted the virus without exhibiting symptoms, Cuomo said widespread antibody testing will provide state officials with "the first true snapshot of what were really dealing with."
During his own coronavirus news briefing earlier Sunday morning, New York City Mayor Bill de Blasio also relayed his office's updated approach to addressing the outbreak, which includes the creation of a Unified Victim Identification System for residents to report loved ones who may be missing as a result of COVID-19.
"We are leaving no stone unturned to help New Yorkers in this time of crisis," the mayor said in a statement. "To those who are grieving: we see you, we hear you, and we are here to help."
More than 2.3 million coronavirus cases have been confirmed worldwide as of Sunday morning, according to Johns Hopkins University's tracker. Roughly one-third of those cases were diagnosed in the United States, which has reported a significant higher incidence of infection than any one of the 185 countries touched by the disease and has long been considered the outbreak's global epicenter. New York, New Jersey, Massachusetts, Pennsylvania, California, Michigan and Illinois have experienced the highest diagnosis, hospitalization and death rates nationwide.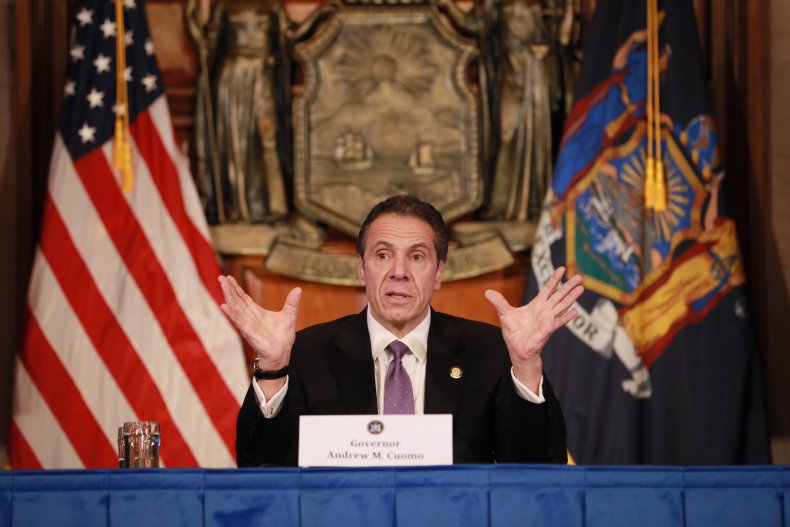 As Cuomo discussed during Sunday's coronavirus briefing, states that have been hit hardest by the U.S. outbreak will face significant challenges as the country looks to restore its economic sector in response to the descending outbreak curve. Alongside Maryland Governor Larry Hogan, Cuomo recently introduced a bill to Congress that would provide $500 billion in federal aid directly to states.
"Everyone is saying, 'Well, it's up to the states to come up with a reopening plan. It's up to the governors.' And that's true and right and legal, but the governors in the states have to have resources," Cuomo said Sunday, calling on the federal government to prioritize and delegate those resources. "If you don't help the state government and local government, then how are we supposed to have the finances to reopen?" he continued.
Referencing pushback from Republican senators that would prevent the White House's next stimulus package—which seeks to bolster loans programs for small businesses, offer additional funding to hospitals and expand testing—from providing any aid to states, de Blasio urged President Donald Trump to intervene in a series of tweets shared Sunday afternoon.
"It's as simple as this: you can step in and fight for your hometown in this next stimulus package or you can turn away and fail to protect New Yorkers," he wrote. "Mr. President, if you don't help New York City — the nation's largest city — back on its feet, you can kiss your economic recovery goodbye."
New Jersey has reported the second-highest incidence of coronavirus cases and fatalities in the U.S., behind New York. As of Sunday afternoon, the state according to its tracker has confirmed more than 85,300 diagnoses and about 4,200 deaths as a result of the disease. On Thursday, New Jersey Governor Phil Murphy extended statewide school closures through at least May 15. During his daily coronavirus conference the following day, Murphy said students may need to wear protective masks in classes if they do return to school next month.