Senate Democrats on Sunday and Monday blocked procedural votes to advance a nearly $2 trillion stimulus package aimed at alleviating some of the economic hardships that the coronavirus pandemic has placed on the American workforce.
The package will include individual checks for Americans—the exact amount of which have yet to determined, although Republicans originally proposed roughly $1,200 for single people and $2,400 for couples—forgivable loans to small businesses, money for travel industry companies hardest hit and funding for medical facilities.
But Democrats voted against the measure because they contended it remained skewed toward corporations and lacked oversight by allowing the Treasury Department broad discretion over how and to whom billions of dollars for loans and loan guarantees would be doled out.
The blocked procedural votes, which would have teed up the legislation to be passed at a later time, infuriated Republicans. Senate Majority Leader Mitch McConnell (R-Ky.) said Democrats were playing games with the American economy and people, and that talks were further strained after House Speaker Nancy Pelosi (D-Calif.)—who's expected to introduce her own version of a stimulus—became involved in talks over the weekend.
"Hopefully, some adults will show up on the other side of the room and understand the gravity of the situation," Senate Majority Leader Mitch McConnell (R-Ky.) said Sunday. "For goodness sake, she's the speaker of the House, not the speaker of the Senate—we don't have one."
Discussions continued Monday morning between both sides and Mnuchin.
Here's why the stimulus package was delayed.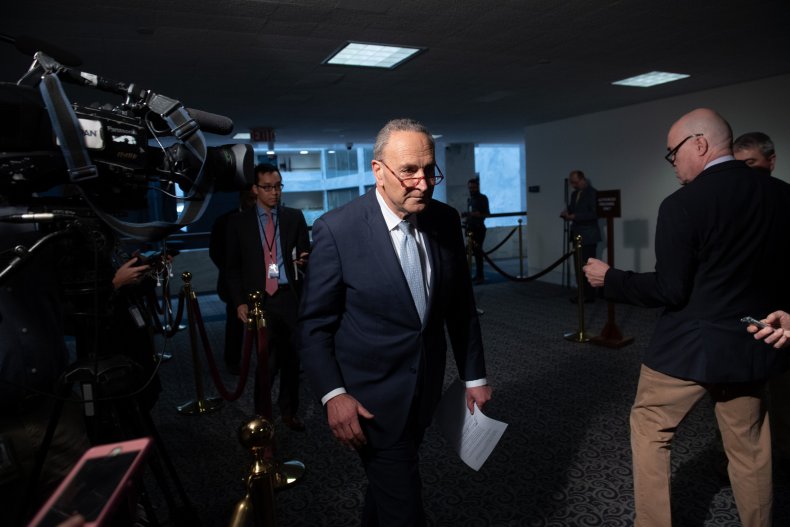 Democrats accused Republican lawmakers of rushing to pass legislation that is a "highly partisan bill" with a "corporate bailout" without proper restrictions or oversight, including the ability for Treasury to delay the release of the names of the businesses that receive money and how much they receive.
They called the $500 billion set aside for such corporations a "slush fund" due to the lack of stipulations and transparency.
Democrats also said the package lacks enough funding for medical needs.
Student loans are one of the sticking points. Democrats would like to see portions of it canceled for students. Several members have floated forgiving $10,000. Meanwhile, Republicans want interest and payments to simply be temporarily postponed. President Donald Trump last week suspended payments for 60 days without accruing interest.
Schumer said the refusal by Senate Republicans to include Democrats from both chambers in the first stages of negotiations has further delayed all sides from coming to an agreement.
The Senate failed again Monday afternoon to pass a procedural vote that would begin debate and later allow for final passage of the stimulus package because Democrats voted against it as they continue to negotiate.